As I sorted out the big black box that we use for the old papers & magazines for the recycling truck I found this package, been waiting for a week and there it was in this box, waiting for me. Good job I had good look into it before putting it out the bin men this morning.
This is what it is that I have been waiting for: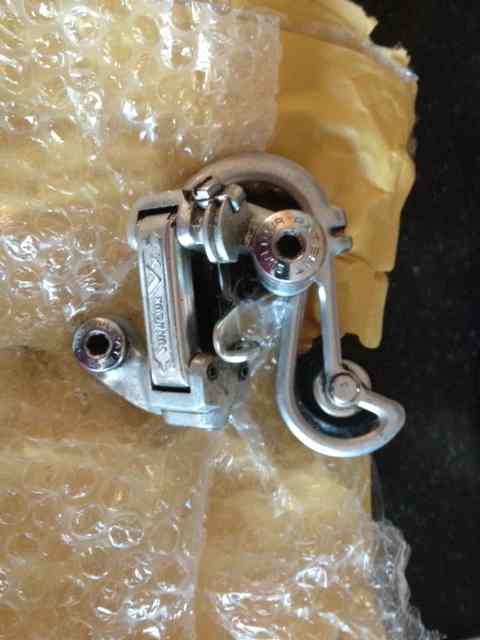 Yippe, Diana's new/second hand derailliare, now it needs a clean & check out:
The jocky wheels are good, some caked muck on then so with my thumb nails got the worst off then a lttle bike cleaner to remove old oil and dust etc:
Clean now,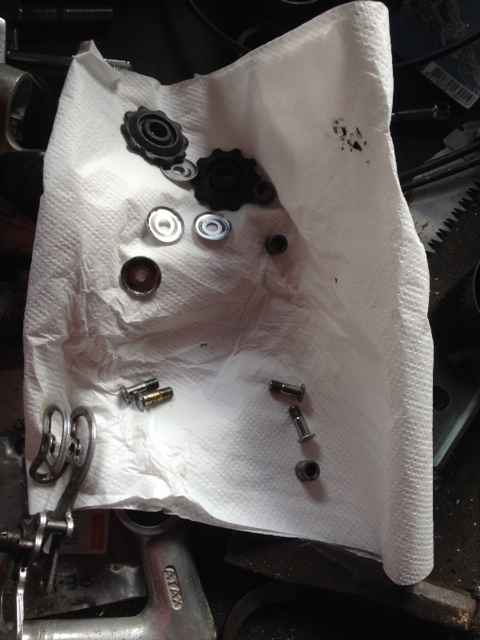 The two bolts on the left came from the replacement unit & are not good but luck is on my side & the right hand pair from my unit are fine.
I think all jocky wheel holders should be like this, so ease to fit the chain: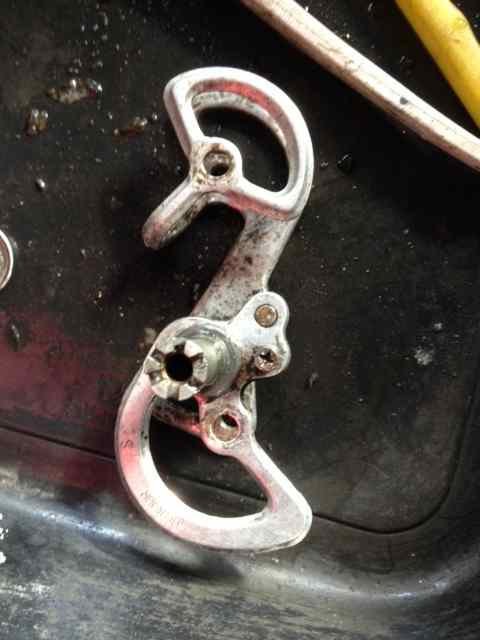 nordog

Nordog





Posts

: 20107


Join date

: 2010-09-14


Age

: 75


Location

: Warminster



Such a shame the delivery person didn't leave a card through your letterbox to say where it was our Nordog. At least you have it now. whooppeeeee.  :yeehar:
_________________

Tan

TTR Administrator





Posts

: 269925


Join date

: 2009-11-12


Age

: 65


Location

: Lancashire



Yes good job it wasn't thrown out Nordog.
Now Diana is ready for the road again:
And I used her last night to ride to the choir practise but found that there was a small problem. As I climbed the small hill that is the high street it got harder to peddle and had to stop. I checked the rear brake was not being fowled by the pannier bags that are on each side of the rear wheel, I even slackened the brake cable, I carried on with difficulty. OK on the flat or down hill or if I scooted the bike.
On the halfway break of practise I decided to have a look see what might be the cause of this slowing down and hard work to peddle, Condor already can guess. On checking the wheel I found that the right hand axle nut was loose, I had forgotten to make sure that it was tight after I fitted the derailleur.
I was lucky that my friend Colin lived not 1/4 mile away so after practise scooted Diana over to his house for a ring spanner to rectify my mistaka that I maka, had to drop a spanner off any ways.  All is right now got home with no further problem, even had my new helmet light on as well as the main bar light.
Last edited by nordog on Tue Oct 14, 2014 4:45 am; edited 1 time in total

nordog

Nordog





Posts

: 20107


Join date

: 2010-09-14


Age

: 75


Location

: Warminster



All so technical but glad you sorted your problem Nordog
Hi Joelle,   if you noticed but the photo is not horizontal and for some unknown reason no mater what I do it turn up on here the wrong way. I had/have the same problem on face book the last few months, the photos are as I want  then on my screen before posting but go sideways on the forum or facebook, even if I modify the photo turning it to the left or right then post it, I even deleted and started again but not all the time.

nordog

Nordog





Posts

: 20107


Join date

: 2010-09-14


Age

: 75


Location

: Warminster



That looks a serious piece of equipment
Hope it's not as difficult to use as it looks

It's a good, solid bit of kit Nordog. The 'tight' wheel was the cone-nuts. They need locking with the narrow nuts next to 'em. While its off grease up the bearings.

The wheel is brand new Condor it was a little tight & as the spacer was to wide to fit the wheel so had to remove that and slacken the cones spins nicely now. All working fine, can now get a good head of speed.

nordog

Nordog





Posts

: 20107


Join date

: 2010-09-14


Age

: 75


Location

: Warminster




---
Permissions in this forum:
You
can
reply to topics in this forum