Here are some shots of the London Blitz. Lots of people died from these bombings and lots more suffered terrible injuries. I admire the British because you are tenacious people. Hitler tried to break your spirit but, he failed. Even King George the VI and Queen Elizabeth wound not leave and they refused to send their children to Canada, like a lot of other aristocrats did. Churchill said that you would fight the hun anywhere and you did and God bless you all for that.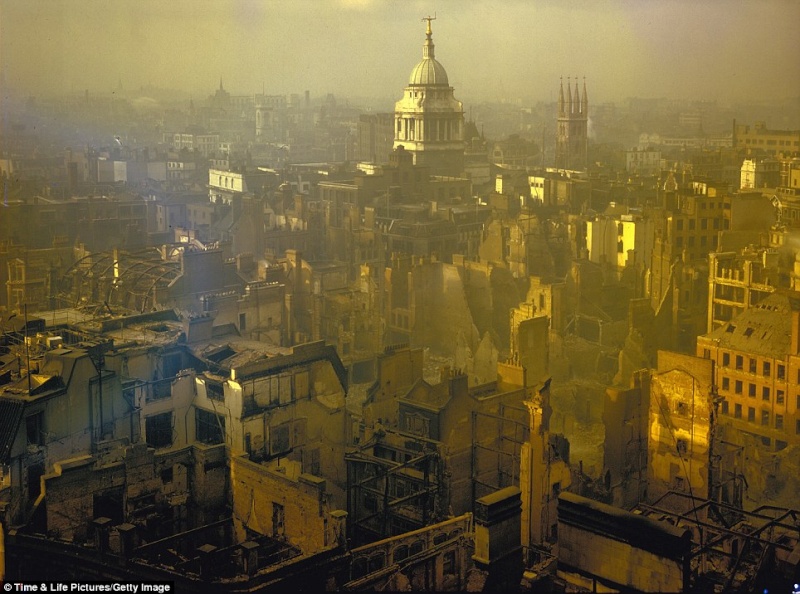 Such vast destruction there for sure, all the hard work eventually needed to repair as much as could be, with barely little really, money being not as plentiful as this day and age.
I often think of the people starting to come out of their air-raid shelters, never knowing what they will see, losing many loved ones as well, also wondering if their homes would be still standing, all that must have caused so much fear for them all.
_________________

Tan

TTR Administrator





Posts

: 269724


Join date

: 2009-11-12


Age

: 65


Location

: Lancashire



How I hope our Maisie sees these photos, our Rich! She lived through the war an has actually written about so many experiences and these will be perfect for her to see, too.

The one with the bus and the bombed hole and the ones with the flattened buildings - I literally can't begin to imagine what it must have been like during that time. Food and pretty much everything rationed ... yet going about one's day the best they could and never knowing if the next bomb would be 'theirs'.

Thank you so, so much for adding these pictures, Rich!
Yes our Mara, it was so bad for those people as Aunt Sally said, so much suffering. We as allies defeated the Nazi's and thank God for that.
Good always defeats evil and Hitler was evil so it was only a matter of time that he and his thousand year reich would be defeated. He killed so many people both his own in Germany and the Jews. He was sick and demented and we collectively defeated him and his empire.
Thanks for the photos Rich.
Yes we were bombed out twice and I was evacuated to the Midlands just after the London Blitz. I can still remember vividly crawling out of the shelter and seeing London on fire and the putrid smell of burning flesh. I was just coming up to 11 years of age at the time.
I have recently had a book dedicated to me by a well know authoress who read my website and it inspired her to write about those years with stories that she had accumulated from her own mother and by other means. She was in fact interviewed about it this afternoon.
I am glad you enjoyed them Maisie, so many of your people suffered terrible hardships. Like I said earlier, my Aunt Sally, was there, outside of London for the whole war in a Canadian Army hospital. She treated service men and women and civilians.

---
Permissions in this forum:
You
can
reply to topics in this forum